SPX
N
In the Know Wrap - Transportation Prices Drop, Quits Spike, Manufacturing Rose, Small Caps Outperform - 05-03-2022

Markets
With the FOMC interest rate decision due out tomorrow, the market cared little about today, with limited directional conviction, other than small caps, where the Russell 2000 gained 0.83% on the day. A handful of new economic data did little to change market sentiment one way or the other.


| | | | |
| --- | --- | --- | --- |
| • SPX | 4,175.49 | +20.11 | (+0.48%) |
| • NASD | 12,563.76 | +27.74 | (+0.22%) |
| • DJIA | 33,129.26 | +67.76 | (+0.20%) |
| • R2K | 1,898.51 | +15.60 | (+0.83%) |
| • VIX | 29.98 | -2.36 | (-7.30%) |
| • Oil | 102.81 | -2.36 | (-2.24%) |
• The logistic managers index fell to its lowest level in over a year after reaching an all time high last month with transportation capacity increasing and transportation prices declining while the JOLTS job report showed openings surged in March to record 11.55M vs. 11.2M est. & 11.34M in prior month (rev up from 11.27M). Orders for U.S. manufactured goods rose 2.2% in April, well above expectation of a 1% increase and former Fed Vice Chair Quarles says U.S. is likely to fall into recession.

Headlines of the Day
Job openings and the level of people quitting their jobs reached records in March
Job openings hit a record-high 11.55 million in March, according to the Labor Department's JOLTS report. Quits totaled 4.54 million, also a record and indicative that the labor market remains historically tight. The gap between open jobs and available workers hit 5.6 million, another new high.

Shanghai Eases Covid Restrictions. Tesla Is Among Reopened Businesses
In Shanghai, nearly 2,000 domestic and foreign firms in industries including autos and pharmaceuticals have resumed operations as Covid restrictions are lifted.

As Snarls Mount, Economists Take a Walk on the Supply Side
Global supply chains are knotting up from China to Denmark, sparking re-examinations of things as macro as globalization itself and micro as trucking efficiency around American ports.

One More Carmaker Stops Hoping the Chip Shortage Would End Very Soon
The chip crunch has become a major pain in the neck for the majority of carmakers out there, and while most of them expected the whole struggle to come to an end this year, they are all revising their forecasts on this front.

Fitch Trims China's 2022 Growth Forecast on Virus Lockdowns
Fitch Ratings cut its forecast for China's 2022 gross domestic product growth due to Covid-19 lockdowns that have hobbled the economy.

Economic Data Results for 5-3-2022
JOLTs Job Openings
The number of job openings in the US rose by 205,000 from a month earlier to a series high of 11.549 million in March of 2022, above market expectations of 11 million, as work shortages persisted.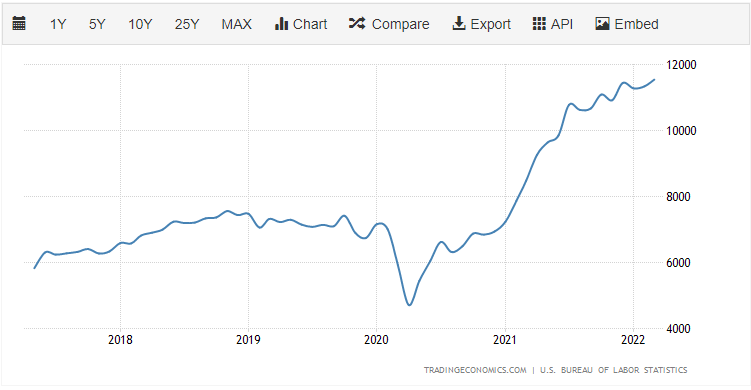 U.S. factory orders rise sharply in March, boosted by inflation
Orders for U.S. manufactured goods rose 2.2% in April, the Commerce Department said Tuesday. The gain was much stronger than expected. Economists surveyed by the Wall Street Journal were expecting a 1% increase.

United States Redbook Index
Redbook Index in the United States increased by 15.20 percent in the week ending April 30 of 2022 over the same week in the previous year. The Johnson Redbook Index is a sales-weighted of year-over-year same-store sales growth in a sample of large US general merchandise retailers representing about 9,000 stores.

United States LMI Logistics Managers Index Current
The Logistics Manager's Index in the US fell to 69.7 in April of 2022, the lowest since January of 2021, from a record high of 76.2 in March as main metrics shifted. Transportation Capacity increased for the first time in nearly two years (+11.2 to 56.9) while Transportation Prices declined (-15.8 to 73.9).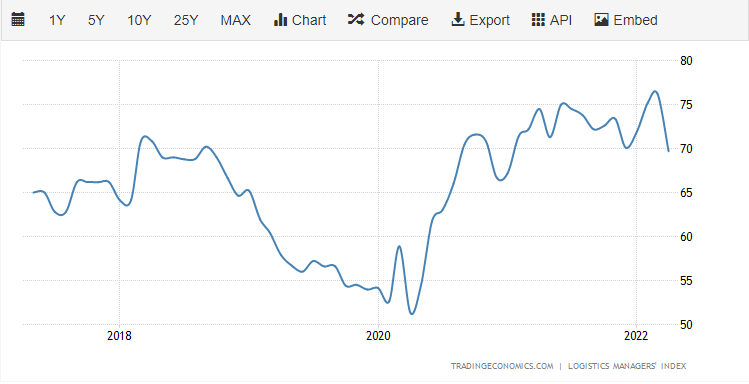 Economic Data Due Tomorrow on 5-4-2022
Fed Interest Rate Decision

ADP Employment Change APR

ISM Non-Manufacturing Prices APR

United States ISM Non Manufacturing PMI

Get the In the Know - End of Day Market Wrap
Legal
The information contained on this site is provided for general informational purposes, as a convenience to the readers. The materials are not a substitute for obtaining professional advice from a qualified person, firm or corporation. Consult the appropriate professional advisor for more complete and current information. Capital Market Laboratories ("The Company") does not engage in rendering any legal or professional services by placing these general informational materials on this website.
The Company specifically disclaims any liability, whether based in contract, tort, strict liability or otherwise, for any direct, indirect, incidental, consequential, or special damages arising out of or in any way connected with access to or use of the site, even if we have been advised of the possibility of such damages, including liability in connection with mistakes or omissions in, or delays in transmission of, information to or from the user, interruptions in telecommunications connections to the site or viruses.
The Company makes no representations or warranties about the accuracy or completeness of the information contained on this website. Any links provided to other server sites are offered as a matter of convenience and in no way are meant to imply that The Company endorses, sponsors, promotes or is affiliated with the owners of or participants in those sites, or endorse any information contained on those sites, unless expressly stated."